---
Delaware River, West Branch
Wayne County
August 18-19, 2003
---
The West Branch of the Delaware River provides anglers an excellent opportunity to fish over a trophy-size mixed wild brown and rainbow trout population. Section 1 extends 8.0 miles along the Pennsylvania and New York border downstream to the confluence with the East Branch at Hancock. Anglers are reminded that a two trout daily creel limit (combined species) and a 12 inch minimum length limit apply from the opening day of trout season through September 30. During the rest of the year no-kill artificial-lures-only regulations are in effect (see pages 8 and 29 of the 2003 summary of fishing regulations).

West Branch of the Delaware River
Area 5 Fisheries Management staff, assisted by Area 4 Fisheries Management personnel, the Coldwater Unit and Aquatic Resources Unit from Pleasant Gap, and Commissioner Leon Reed, electrofished sites on August 18-19, 2003 to assess trout abundance. The two sites covered 2,444 ft. of river. One encompassed a stretch of river at the PFBC Balls Eddy access off of T-738 (Penn York Road), and the second was located immediately downriver of Hancock Bridge on state Route 191.

Angler in the mist
Wild brown trout and rainbow trout were present at both sites based on the presence of trout less than 6 inches in length. The survey crew handled 388 trout of which 85 percent were brown and 15 percent rainbow trout. Rainbow trout comprised 16 percent of the catch at the upstream site and 45 percent at the lower one. Trout greater than or equal to 7 inches accounted for 78 percent of the total catch. Of trout equal to or greater than 7 inches, half were twelve inches and longer and 39 percent were greater than or equal to 14 inches. The largest rainbow netted was 17 inches while the largest brown came in at 23 inches. The crew reported seeing a much larger brown trout however.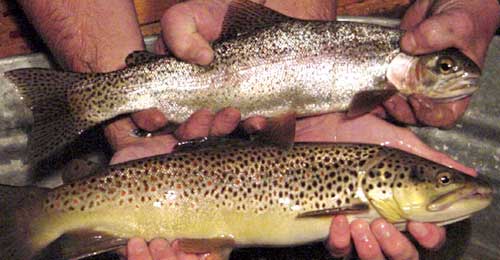 Rainbow and brown trout
A few walleye (15-19 inches) and smallmouth (9-15 inches) were also netted but no striped bass or striped bass hybrids were seen.

Fisheries Technician Joe Minnichbach with a 23" brown trout

Tub of West Branch trout
Delaware River, West Branch
Section 1
Size Range
(inches)
Brown Trout
Rainbow Trout
Total
1
2
2
2
52
6
58
3
19
19
4
5
6
7
7
7
29
4
33
8
53
2
55
9
29
1
30
10
8
4
12
11
5
3
8
12
16
10
26
13
13
8
21
14
18
4
22
15
18
3
21
16
18
8
26
17
19
5
24
18
8
8
19
11
11
20
2
2
21
1
1
22
1
1
23
1
1
Total
330
58
388
# >= 7 inches
250
52
302
% >= 7 inches
76
90
78
-- Area 5
---
Biologist Reports -- PFBC Home
---
Commonwealth of Pennsylvania Web Privacy and Security Policies